Thompson Park
Thompson Park is home to our war cenotaph, dedicated to the men and women who served this area. This park included many interesting historical plaques and wartime items to learn about at this fantastic park!
Thompson Park has two hard-top surface tennis courts, great for a good tennis rally! Thompson Park has a medium play structure you will find located in this magnificent green space!
Thompson Park is located on 155 St Lawrence St E, Madoc, ON K0K 2K0
Come visit Thompson Park!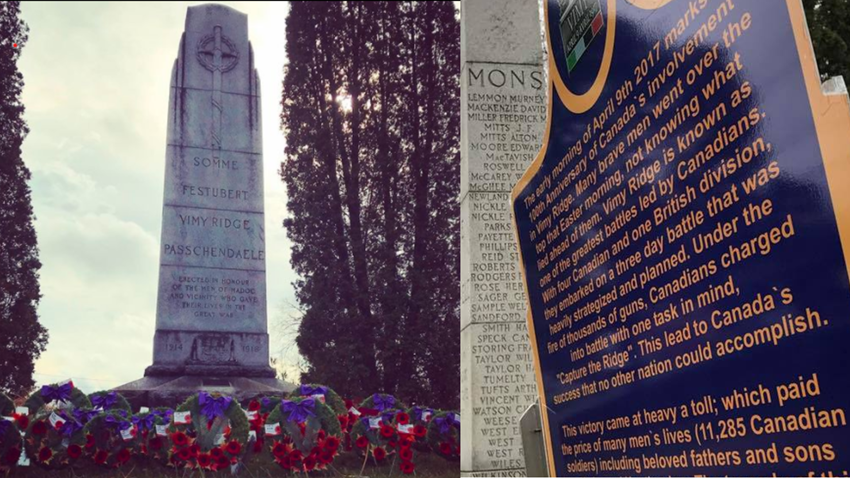 This beautiful memorial was erected by the Madoc Women's Institute and unveiled with full military honours in November of 1928.  It pays tribute to the men of this vicinity who gave their lives in sacrifice during the Great War.
In later years the names of those lost in the Second World War where engraved in the back of the great stone.  A small plaque acknowledging the Korean War was also added.

Beside the memorial are two German trench mortars and also an Ontario Historical Plaque dedicated to John Weir Foote, who bravely earned the Victoria Cross on the beaches of the failed Dieppe Raid in 1942.  He is the only Chaplain to have received the highest award in WWII.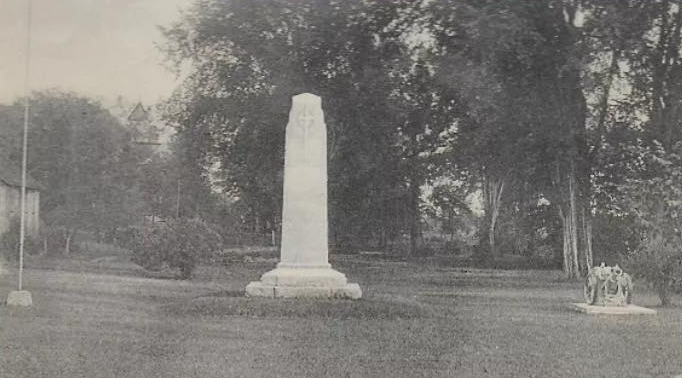 SOMME

FESTUBERT

VIMY RIDGE

PASSCHENDAELE

ERECTED IN HONOUR
OF THE MEN OF MADOC
AND VICINITY WHO GAVE
THEIR LIVES INTHE
GREAT WAR

1914     1916

small plaque:
KOREA
1950 - 1953
Names:
LEMMON MURNEY
MACKENZIE DAVID
MILLER FREDRICK M.
MITTS J.F.
MITTS ALTON
MOORE EDWARD
MacTAVISH ROWSELL M.
McCAREY WILLIAM
McGHEE MARSHALL
NEWLAND RICHARD H.
NICKLE LESLIE W.
NICKLE ROBERT J.
PARKS CHAS.
PAYETTE HENRY
PHILLIPS HERB
REID STANLEY
ROBERTS WILLIAM
RODGERS PHILLIP A.
ROSE HERBERT R.
SAGER GEORGE
SAMPLE WELLINGTON
SANDFORD JAMES W.
SMITH HAROLD
SPECK CAMERON
STORING FRANCIS N.
TAYLOR WILLIAM J.
TAYLOR HARRY
TUMELTY EARL
TUFTS ARTHUR Z.
VINCENT WILLIAM
WATSON CHARLES R.
WEESE MILTON
WEST EDWARD J.
WEST ARTHUR
WEST ROLAND
WILES CHAS.
WILKINSON WILLIAM
Names:
ALEXANDER JOHN J.
ALEXANDER ROBERT
ALLT JOHN S.
AYRHART CHARLES
BADGLEY JOHN
BASSETT LORNE B.
BIRD GEORGE
BRADY JAMES R.
BROADWORTH MALCOLM P.
BROADWORTH CARL Mc.
BROADWORTH ERNEST M.
BROAD THOS. C.
BRONSON JOHN A.
BROWN JOHN
BURNS LAURENCE
BURNS EDWARD
BLAIR JOHN
BENSON FRED
CARMAN LEONARD
CARTWRIGHT JOSEPH
CRAMPY JOSEPH
DEMARSH ALEXANDER
DONALDSON CHARLES H.
DOUGHTY J. CARL
FEENEY JOHN C.
GENEREAUX FRANK
GLOVER WINFRED A.
GORDON A. EDWARD
GORDON WALLACE S.
HARRIS HAROLD B.
HOLLAND GEORGE
KELLAR BRUCE
KELLAR BERT.
KENT GEORGE
KETCHESON ROSS
KINLOCH FRANK
LAIRD JOHN
Names:
ASH A. RUEBEN
AULT ROBERT
BRISTOL ROBERT
BROAD LESLIE
CASSIBO BERNARD
CAVERLY CLIFFORD
COONEY HAROLD
FRANCES JEROME
GENEREAUX JACK
GILMAN PAUL
GRIFFIN HARRY
HERRINGTON ALEX
HUNTER ROBERT
KINCAID ROBERT
KIRBY STEWART
MARTIN KENNETH
McMURRAY ED.
MURRAY ALEX
REEVES MacKENZIE
ROSS WALTER
SCHAMEHORN CLIFFORD
SCOTT WALTER
SPRY CECIL
THOMPSON ROBERT
WALKER FRED
WALKER MALCOLM
WHYTOCK DONALD B.
YOUNG JAMES