Information and Resources for the 2023/24 Respiratory Illness Season, provided by Ontario's Emergency Management Community.
Respiratory Illness Information and Resources 2023/24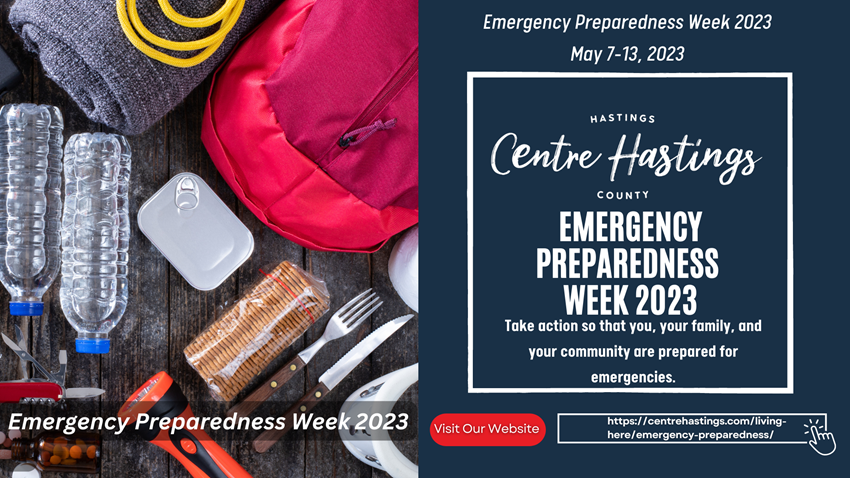 Emergency Preparedness Week 2023
Everyone has a role to play in an emergency. EP Week is an opportunity for you to take action to ensure you are prepared to protect yourself, your family and your community during an emergency. This year, the theme is Be Prepared. Know Your Risks. The intent of the theme is to encourage Canadians to understand the risks in their area and learn what actions they can take to protect themselves and their families.
For more info, please visit the government of Canada's website: https://www.getprepared.gc.ca/cnt/rsrcs/ep-wk/index-en.aspx
For information specifically about COVID-19 please call the Public Health Unit on 613-966-5500 or 1-800-267-2803. For COVID-19 related information about municipal services, public notices and facilities please do not hesitate to contact staff at 613-473-4030.
How you Can Plan for Emergencies
1. Be Prepared
Make sure everyone in your family knows what to do before, during and after an emergency. As a family, make a plan and discuss how you can best prepare for the most likely hazards that will affect your home. If you live alone, make a plan for yourself and make sure you talk about it with your friends and neighbours.
2. Plan/Prep
Make sure you have supplies in your home to be self sufficient for at least 72 hours. You should have a list of emergency phone numbers handy and keep a copy in your Ready to Go kit. Select a family member or a friend who lives a distance away from you to be the contact person in the event that you get separated from your family. Make sure everyone in the family has this person's contact information, put a copy in purses, briefcases, school backpacks etc. and make sure it is stored in electronic devices such as iPods, cellphones or laptops. You can also include floor plans that include where exits and escape routes from each room. Make sure your car has a Car Survival Kit in case you are stranded or need to travel a long distance.
Don't forget your pets!! Make sure that you have a Pet Emergency Kit and have a list of pet friendly hotels, kennels, veterinarians or friends who can take your animal, or who you can stay with if you need to evacuate your home.
3. Know your Hazards
Make a list of all of the hazards that may affect you and your home. Contact your local Community Emergency Management Coordinator, Cathie on 613-473-4030, for information on the top local Hazards in your community. Find out how you can prevent, mitigate or prepare for these hazards to ensure that yourself, your family and your pets can remain safe and calm during an emergency.