The municipality maintains 222 square kilometers of roads in Centre Hastings year round with the exception of seasonal roads, private lanes, and provincially owned highways such as Hwy 7. 
The roads are patrolled in accordance with the Minimum Maintenance Standards for municipal highways to identify and fix temporary road hazards such as downed trees, branches, pot holes, snow, snow drifts, icy conditions, and more. 
View a map of Huntington Township 
Entrances & Civic Addressing 
An entrance permit is required for all new entrances or alterations to existing entrances that provide access to municipal roads.
All other entrances that enter from private lanes should be made accessible for emergency vehicles.
Entrance Permit Fee                                               $100.00
911 Sign (New Home)                                            $125.00
911 Sign (Replacement Blade)                             $50.00
911 Sign (Post and Hardware installed)             $125.00
During the spring thaw, some Municipal roads may become too soft and unstable to withstand the weight of a fully loaded truck, regardless of the axles. In an effort to reduce damage to the roads during spring thaw, for March and April each year, the Municipality restricts vehicles to half loads (5 tonnes per axle) on all roads in the Municipality.
The Municipality of Centre Hastings is committed to providing safe roads for the traveling public during the winter season. 
The Public Works Department is responsible for winter maintenance of nearly 550km of roadway. Routine winter maintenance activities carried out by the Public Works department include but are not limited to; snow and ice removal from roadways, municipal parking lots, and road patrolling,
Winter maintenance of Centre Hastings roadways are completed in accordance with the Ontario Minimum Maintenance Standards for Ontario Highways. Roads are patrolled during the winter months.
During the period of December 1st through March 31st no person shall park a vehicle on any street within the village of Madoc between the hours of midnight and 7:00 am.
To prevent the possibility of a parking ticket being issued and/or the removal of your vehicle, and to assist the Municipality with winter street maintenance, please remove your vehicle if you have been parking overnight on the streets.
During the winter months our snowplough operators try their best not to damage mailboxes.  Please make sure posts and boxes are secure before December of each year.  If your mailbox/post is damaged from the snow that is pushed from the plough it is the responsibility of the homeowner for replacement. Though we try our best accidents do happen, if your box/post is damaged due to our truck/snow blade please contact our office to discuss options.
Please see Canada Post link to see tips on Rural Mailbox Guidelines.
Routine summer maintenance activities carried out by the Public Works department include but are not limited to; grass cutting, street sweeping, sidewalk maintenance, tree trimming, road grading, road drainage improvements, dust control, and gravel application.
The municipality will apply dust control to areas designated by the Council and Municipal Works on an annual basis and as per the current year's budget.
Dust control is conducted during the months of May and June.
Here is the attached work schedule below: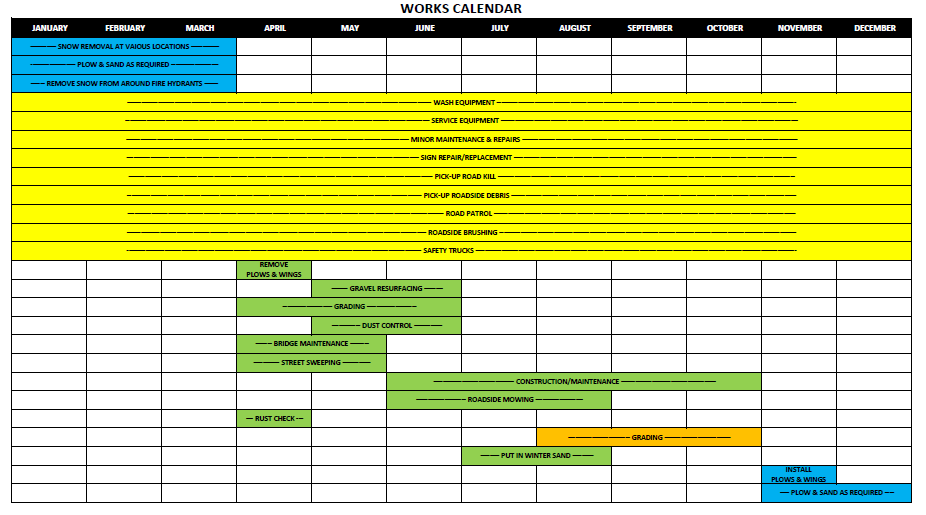 Street sweeping takes place at the end of spring and early June. After the initial sweeping pass is completed crews perform routine street sweeping to remove debris from streets and curb lines throughout the year.
Here is the attached work schedule below: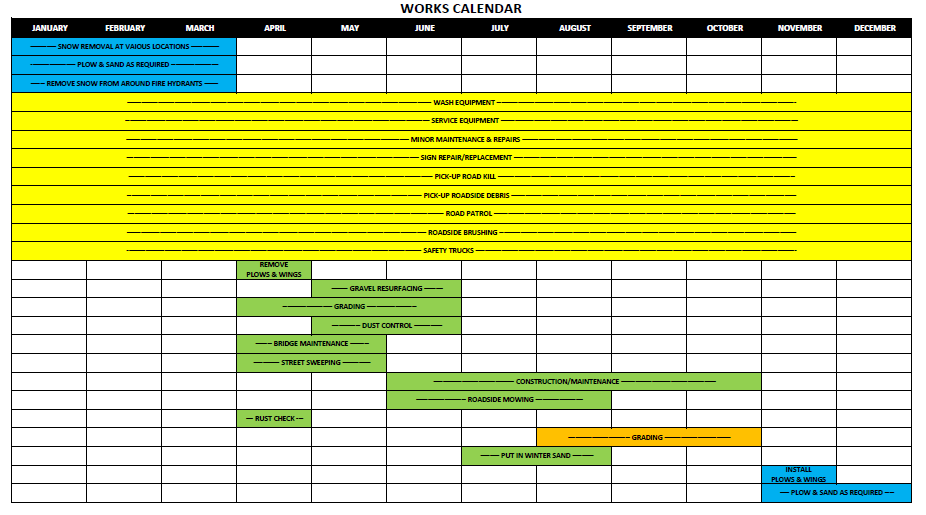 Roadside Vegetation Management along the roadsides is an important part of road maintenance. It ensures clear sight lines for signs, intersections, and roadside wildlife, promotes drainage and drying, and prevents the establishment of trees and brush in the right of way.  Controlling noxious and invasive weeds is another objective of the Municipality of Centre Hastings vegetation management program.
The Municipality of Centre Hastings Road's Department conducts roadside mowing from June to August. The municipality is conducting ongoing maintenance throughout the year. 
Here is the attached work schedule below: