Winter storms
Winter storms kill more Canadians than tornadoes, thunderstorms, lightning, floods and hurricanes combined. Heavy snowfall and ice can make the roads treacherous and interrupt the power supply.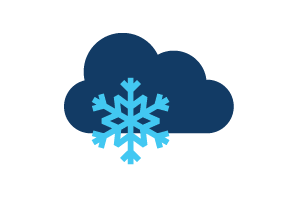 Safety Tips
Avoid unnecessary travel
Wear layers of lightweight clothing, mittens and a hat (preferably one that covers your ears)
Wear waterproof, insulated boots to keep your feet warm and dry and to keep from slipping on ice and snow
Regularly check for frostbite — numbness or white areas on your face and body (ears, nose, cheeks, hands and feet in particular)
Avoid overexertion when shoveling snow by taking frequent breaks
Bring pets inside and move livestock to sheltered areas with non-frozen drinking water
Extreme Cold
Extreme cold is measured differently in different parts of the country. Whenever temperatures drop dramatically below normal, staying warm and safe can become challenging. In general, your risk of health effects like windburn and frostbite increase at wind chill values below -27.
The wind can make cold temperatures feel even colder. The wind chill index measures what the temperature feels like on exposed skin based on the speed of the wind. A wind chill can cause your body to lose heat faster and your skin to freeze very quickly. Wind chills below -70 have been recorded in some northern Canadian communities.
Who is at risk?
While anyone who isn't dressed warmly is at risk in cold weather conditions, some are at greater risk than others for frost bite and hypothermia:
homeless people
outdoor workers
people living in homes that are poorly insulated (with no heat or no power)
people with certain medical conditions such as diabetes, peripheral neuropathy, and diseases affecting the blood vessels
people taking certain medications including beta-blockers
winter sport enthusiasts
infants (under 1 year)
seniors (65 years or older)
Health risks of extreme cold
A normal body temperature is approximately 37ºC (99ºF). When your core body temperature drops by 1 or 2ºC (1.8 or 3.6ºF), or your body is exposed to severe cold it increases your risk of harmful effects.
For more information and safety tips on Extreme Cold conditions visit: https://www.canada.ca/en/health-canada/services/healthy-living/your-health/environment/extreme-cold.html
Winter Driving
For tips on driving this winter check out the attachment: Winter Driving
Are you Prepared?
How you Can Plan for Emergencies
Be Prepared
Make sure everyone in your family knows what to do before, during and after an emergency. As a family, make a plan and discuss how you can best prepare for the most likely hazards that will affect your home. If you live alone, make a plan for yourself and make sure you talk about it with your friends and neighbours.
Make a Plan
Keep a list of emergency phone numbers handy and keep a copy in your "Ready to Go" kit (details below). Select a family member or a friend who lives a distance away from you to be the contact person in the event that you get separated from your family. Make sure everyone in the family has this person's contact information, put a copy in purses, briefcases, school backpacks etc. and make sure it is stored in electronic devices such as iPods, cellphones or laptops. You can also include floor plans that include where exits and escape routes from each room.
Don't forget your pets!! Make sure that you have a Pet Emergency Kit (details below) and have a list of pet friendly hotels, kennels, veterinarians or friends who can take your animal, or who you can stay with if you need to evacuate your home.
Prepare your Kit
Make sure you have supplies in your home to be self sufficient for at least 72 hours. You should also prepare a "Ready to Go" kit (below) that has all of the information and supplies that you will need to evacuate quickly, a Pet Emergency Kit (below), and make sure your car has a Car Survival Kit (below) in case you are stranded or need to travel a long distance.
Know your Hazards
Make a list of all of the hazards that may affect you and your home. Contact your local Community Emergency Management Coordinator, Cathie on 613-473-4030, for information on the top local Hazards in your community. Find out how you can prevent, mitigate or prepare for these hazards to ensure that yourself, your family and your pets can remain safe and calm during an emergency.
For more information please check out the information sheets below:
Ready to Go kit Be Alert Ready
month by month emergency kit pet survival kit
car survival kit 72 hour survival kit
BE ALERT READY
Alert Ready is designed to deliver critical and potentially life-saving alerts to Canadians through television and radio. The Alert Ready system is developed in partnership with federal, provincial and territorial emergency management officials, Environment and Climate Change Canada, The Weather Network and the broadcasting industry and wireless service providers, to ensure you receive alerts immediately and know when to take action to keep yourself and your family safe. For more information click: https://www.alertready.ca/#home
Please see the Links below to help ensure you are prepared and safe during an emergency:
How to prepare for, and what to do during a Power Outage – Link Below
Flooding Emergencies
Disaster Recovery Assistance for Ontarians – Ministry of Municipal Affairs