The fire season is April 1st to October 31st. During this time period, daytime (7 am to 7 pm) burning of brush, grass, etc. is prohibited. 
You may burn brush and leaves without a permit between 7 p.m. and 7 a.m (except when a burning ban is in place). 
If you wish to do this, you must meet the conditions listed below. Failure to meet these conditions could lead to fines and the costs for the Fire Department to attend and extinguish your fire.
Bylaw:
The Municipality of Centre Hastings is in a Restricted Fire Zone. ( RFZ ) is an order made by the Minister of Natural Resources and Forestry, under the Forest Fires Prevention Act restricting the use of open fires in a specific area of the province.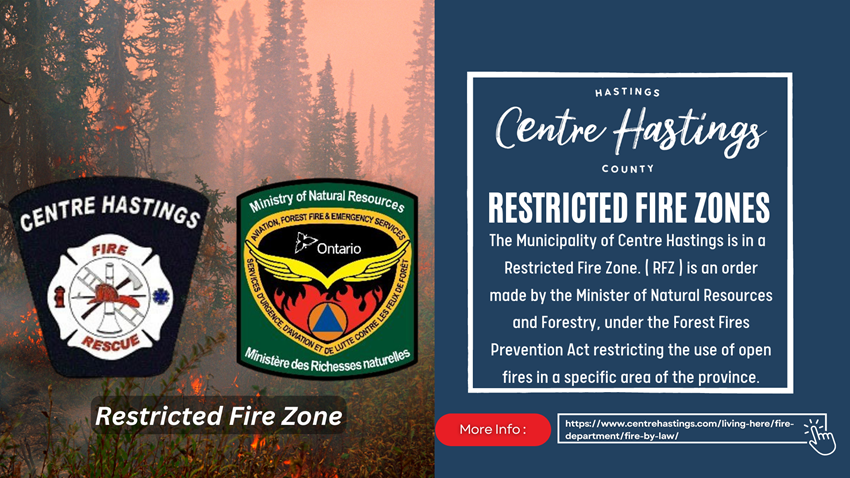 The Municipality of Centre Hastings Fire Department is reminding residents that there is a fire ban now in effect as of June 2nd, 2023.
Open-air burning including campfires and fireworks will result in fines by the Municipality of Centre Hastings. Our utmost priority is to ensure the safety of our residents. The ban is a temporary measure to help keep emergency crews and resources readily available.
The
majority of Ontario has been placed on a Restricted Fire Ban by the MNR. There is NO open burning allowed across the province at this time. No campfires, no grass or debris burning, extreme caution when using propane cooking units outdoors. With the dry conditions and the number of fires burning across the province at this time, the risk is too high.